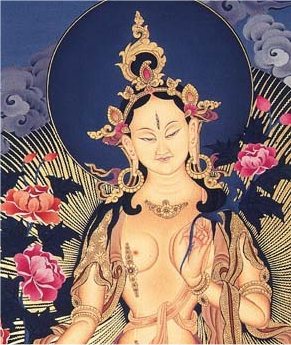 White Tara: A Soothing Practice for Difficult Times
White Tara is one of the most well-known female bodhisattvas of compassion in Tibetan Buddhism. Emanated from the tears of the compassionate Avalokiteshvara, peaceful White Tara is said to witness the suffering of beings through her seven eyes, and she soothes their fear, calms their anguish, heals their suffering—both individual and communal—and extends their lives.
This is a practice particularly relied upon in times of domestic and community turmoil and disharmony, and when personal or family health is threatened.
All are welcome however we encourage you to have an established meditation practice prior to attending.
This gathering will consist of a talk, practice, discussion, and a simple meal where food is happily shared. It will be hosted by a senior teacher in the community and facilitated by a Shambhala Council member with a team of people excited to share food and discussion with the community
Please register for this event and bring a small plate of food. Please avoid foods containing nuts, seeds, including hummus.
A suggested donation of $5 would be appreciated.