To limit the spread of COVID-19, the Shambhala Centre is closed until further notice.  Please view the calendar for the Virtual Practice and Study sessions.
We could use your help to keep things running! If you feel like you have the means to help keep the Centre and its offerings going during the COVID-19 shutdown, we gratefully accept online donations . Every bit helps us to provide a space of peace online, and a space for people to come back to when it's all over. All donations are tax-deductible.

Welcome!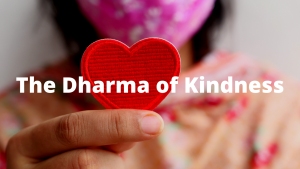 with Loretta Colton
Wednesdays, November 10th—December 8th
"Be kind". Such a simple and powerful instruction. But how do we put it into practice? This 5 week course will consider the meaning of kindness to self and to others, and will work with practices that can cultivate our capacity for kindness.
Continue »
Weekday Morning Meditation Practice
Come sit with us during our group meditation sessions offered virtually via Zoom, with meditation practice Wednesday and Friday mornings 8-8:30 am, November and December.  The program offers 30 minute sessions. For the first 5 minutes or so we will share Dharma and readings, followed by silent practice of sitting meditation. For those who are new to meditation, meditation instruction will be available.   All are welcome.   For more information and to register for the Zoom link, please go here.
Virtual Mindfulness and Compassion Practice
Tuesday evenings

During our period of temporary shutdown due to the COVID-19 situation, we will be offering modified, regular sitting virtually via Zoom, starting at 7 pm. (You can download the Zoom app for free.) These 45-minute sessions will include some guided peaceful abiding practice as well as the compassion practice of tonglen. All are welcome. 7 pm to 7:45 pm. Please see the calendar for more information.
Learn to meditate and naturally grow your confidence, mindful awareness, and compassion.
The Ottawa Shambhala Meditation Centre offers meditation instruction, regular practice sessions, and classes and weekend retreats for new and experienced practitioners. Our community welcomes people from all walks of life, traditions and religions. Learn more about us.
The Shambhala teachings point to innate goodness as the nature of all individuals and society. Developing confidence in basic goodness through meditation supports us in cultivating gentleness and bravery in daily life and in service to others.
The Ottawa Shambhala Meditation Centre is part of a global community that aspires to awaken kindness, goodness and wisdom within society. This vision is rooted in the principle that every human being has a fundamental nature of basic goodness.
---
Getting started
Meditation is a practice anyone can do. New meditators and those practising in other traditions are invited to attend a "Learn to Meditate" class. (These classes are suspended during the current shutdown)
Learn to Meditate is offered in English on the 1st and 3rd Wednesday of the month, 7:00pm to 8:30 pm. It is free of charge  (but donations are always appreciated if you are so inspired).
View our monthly calendar.
Dharma Book List.  This list that will give you a good introduction and grounding on the path of Buddhist meditation as practiced and taught at the Ottawa Shambhala Centre.  They may be ordered from your local book store or on-line.
Pour débuter
Tout le monde peut méditer. Que vous n'ayez jamais médité ou que vous pratiquiez dans une autre tradition, vous êtes invités aux séances ci-dessous. (Ces classes sont suspendues lors de l'arrête en cours.)
Les soirées Apprendre à méditer sont offertes en français le deuxième mercredi de chaque mois, de 19 h à 20 h 30. L'entrée est gratuite (mais vos dons sont toujours les bienvenus).  Durant cette période de crise, il est possible de recevoir des instructions de méditation virtuelles en français. Veuillez nous contacter au [email protected] pour en faire la demande.
Voir notre calendrier mensuel.
Liste des livres du Dharma. Cette liste qui vous donnera une bonne introduction et une bonne base sur la voie de la méditation bouddhiste telle qu'elle est pratiquée et enseignée au Centre Shambhala d'Ottawa. Ils peuvent être commandés dans votre librairie locale ou en ligne.
Support Your Centre
The Ottawa Shambhala Centre relies entirely on member fees, revenue from courses and donations for all operating expenses.  If you feel inspired to give please see the donation page.  Donations are tax deductible.