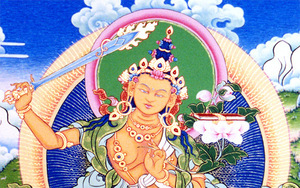 The Logic of Emptiness: An Introduction to the Middle Way
with Pascal Machado
The Middle Way School (Madhyamaka in Sanskrit) was founded in the 2nd century C.E. by Nagarjuna. It was the most influential school of Indian Buddhism, and became the reference for understanding the Buddha's teachings on emptiness. It uses reasonings to show that our conventional understanding of reality does not hold up to scrutiny. Phenomena, although appearing, are empty of established existence. We grasp at space, believing it to be solid.
In this short course, we will use the text Opening the Door to Emptiness by Thrangu Rinpoche to examine two main Madhyamaka reasonings refuting inherent existence: things are devoid of a cause, and things are devoid of a result. The text is available for free here.
The course will include contemplation, study, and discussion, with readings to be done before each class. It will take place online, using Zoom. Please register in advance to receive the link for the class and the readings. As always, our generosity policy applies if you can't afford the full program cost.
This course is restricted to members of the Ottawa Shambhala Centre.
*Please note the format and timing of this course might change if the physical distancing and COVID-19 containment measures change.