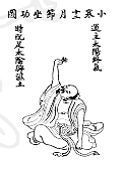 Qigong Level 4
with Sophie Leger
In this level, students will continue to learn the Immortals' Guide to Self-Massage and Breath Regulation and the Red Phoenix Calisthenics. In addition, students will learn the first two forms of the Five Animals System (tiger and dragon) of physical strengthening as well as the last two postures of Yiquan Standing Qigong.
Please register early to ensure the class goes ahead. Space is limited, preference will be given to those paying in advance.
$250 for first timers, $125 for those repeating the level, we honour the generosity policy.
Saturday, May 23: Registration from 8:30 - 9:00. Program: 9:00 am to 9:00 pm
Sunday, May 24: Program from 9:00 am to 5:00 pm
Prerequisite: Level 3