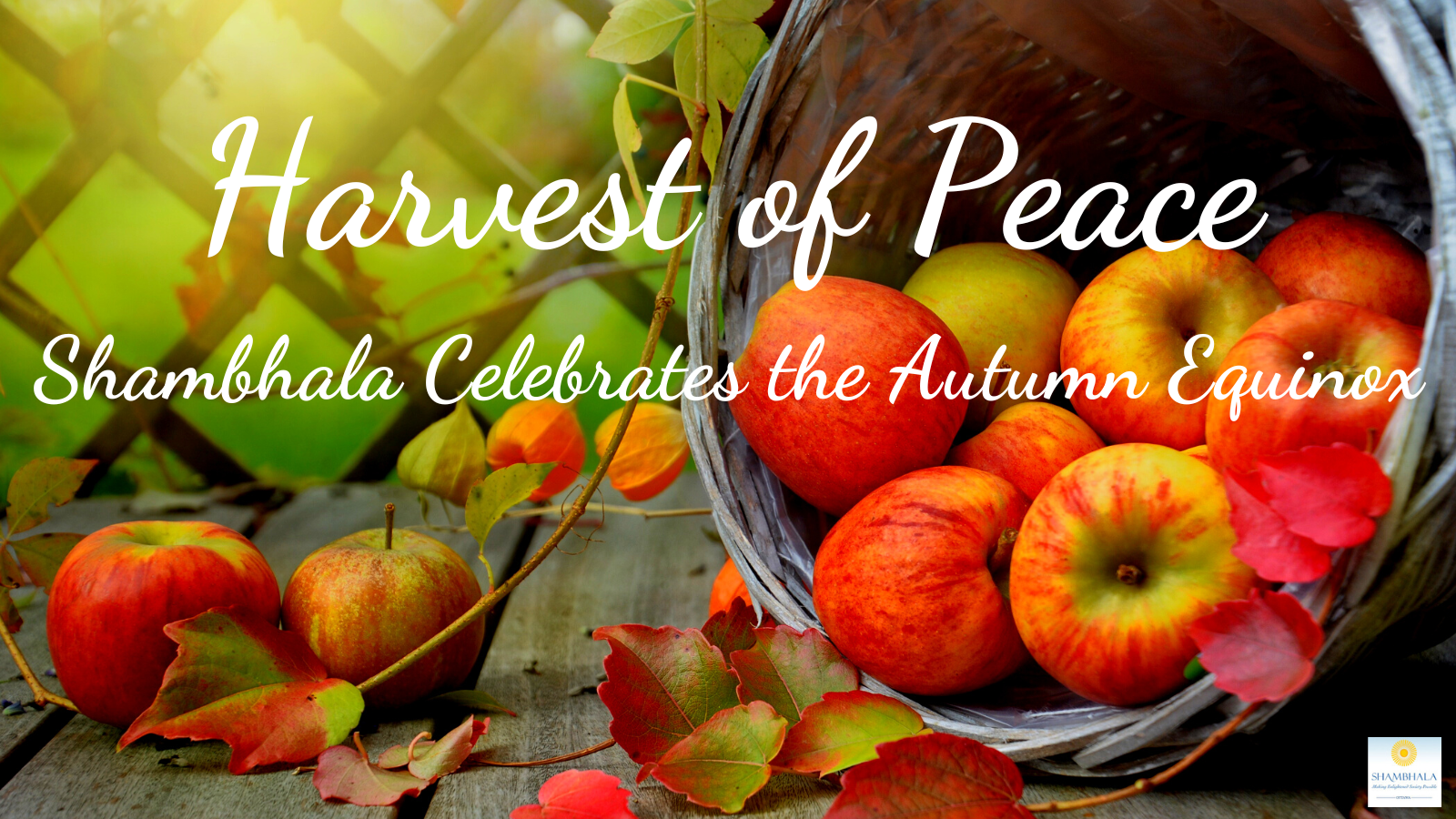 Shambhala Online Event: Harvest of Peace - Reconnecting to the Earth and The Path of Tonglen!
Since OSMC is in the process of packing up our Ross Avenue space in preparation for our end-of-September move, we're inviting you to join Touching the Earth Collective's Global Celebration of Harvest of Peace: one of Shambhala Buddhism's major Nyida Days - holidays that celebrate different points on our lunisolar calendar.
Join us for a community meditation practice, community sharing and discussion, and a celebration of the equinox and changing of the season
The practice of Tonglen is a wonderful way to collectively "embody peace" as we mark the moment of Harvest of Peace. This weekend retreat offers a way for us to connect more deeply with this powerful practice – with a specific focus on tonglen for the environment.
Tonglen is a Tibetan Buddhist meditation practice that is known as "sending and receiving." On the inhale, you take in the pain and suffering of yourself and others, and on the exhale you give space, compassion and healing to yourself and others. It is a beautiful practice and can be particularly powerful when practiced as a group. Tonglen practice instruction will be given every day, so beginners are welcome!
About the Teacher

Alfonso Taboada was born in Madrid. In his early twenties a neighbor who was practicing Zen lent him The Life of Milarepa, and he was deeply impressed and moved reading it, and soon started practicing Zen. In 1986, after finishing studies in Pure Mathematics in Madrid, he moved to San Francisco and soon changed zazen practice for Shambhala practices. Alfonso did the former 3-month Vajradathu Seminary in 1990. Back in Spain he organized the first Shambhala Training Level ever and a small study group started in Madrid – today a full Shambhala Center. He has been teaching the Shambhala dharma for over twenty five years and served as acharya (senior teacher) for a decade. He is a member of the faculty of Karuna Training and is trained as a mindfulness teacher for stress reduction. He has translated into Spanish several published books of his teachers, including Buddha in the Palm of Your Hand, Great Eastern Sun, Start Where You Are, No Time to Lose, Turning the Mind into an Ally, and Ruling your World. Today he teaches mathematics in three American Universities in Madrid, has a family that includes four children, and serves the Shambhala mandala teaching and guiding students.
Alfonso Taboada practica meditación dentro de la tradición de budismo Shambhala desde mediados de los años ochenta. Es profesor veterano del Aprendizaje Shambhala y budismo y sirvió como acharya de Shambhala durante una década. Tiene formación en Mindfulness y en Psicología Contemplativa, también como profesor. Ha traducido varios libros de meditación y budismo y enseña matemáticas en tres universidades americanas en Madrid.