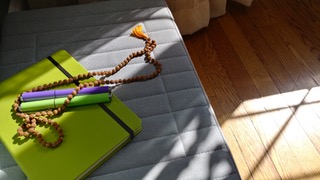 Writing is for Everyone: Contemplative Writing
Writing, like meditation, is a solitary act that benefits greatly from practice with others. Drawing on the work of Natalie Goldberg (Writing Down the Bones), this six-week class uses meditation and writing practice to help you develop a regular writing practice and write your way through obstacles. Whether you're an experienced writer or want to write but don't (yet), whether it's poetry or prose, fiction or nonfiction, short stories or novels, you are most welcome. You may not consider yourself a "writer" even though you love to write. You're most welcome too.

Whatever your situation, this class aims to help you find your voice, to listen deeply and compassionately to yourself and others, and to write with more confidence and ease, and less resistance and stress. You'll be invited to share what you just wrote, not for critiquing but for compassionate listening. Sharing is always completely voluntary, and completely confidential.

The class is online, with closed captioning available. Classes will be recorded but will be shared only with participants in the group. We can start a secret Facebook group for posting and between-class conversations if the group decides they want more engagement.
ALL ARE WELCOME.
Please register to receive the zoom link.
Questions? Please contact Tunde directly at tundenemeth55 (at) gmail (dot) com.

If you have a project on the go and are looking for editing or revision, please contact Tunde directly for one-on-one coaching.