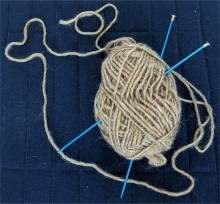 Knitting with the Mind of Meditation
with Margaret Couper
As knitters know, the craft is much more than the finished project. When we knit, we place our attention over and over again on the natural rhythm of creating fabric out of thousands of stitches. In this group, we will explore how we can cultivate mindfulness, serenity and appreciation for the world around us through the act of knitting and other everyday activities.
This is not a "learn to knit" class. Through practice, discussion, and contemplation, we will help each other while exploring these ideas. Beginners and experienced knitters are all welcome. Together we will work on a project to donate to Elders at Grace Manor.
Each gathering will begin with a short period of sitting meditation and then explore a different theme each meeting with a short talk and time for discussion, and…. of course,…. knitting together.
March 8, Finding mindfulness through knitting. When we knit, we offer ourselves a gift by purposefully engaging in a focused activity. How does the settled feeling we create when we knit relate to our meditation practice? Can we carry the same mindfulness into other everyday activities? What if I find it difficult to focus long enough to complete a project? Can I intentionally create this quiet state of being?
March 22, Exploring Our Creativity. As we find our focus and explore a quiet and open mind, we may find that our creativity is awakened. How does finding a place of stillness through mindful activity help us to tap into our creativity? What is the connection between meditation and our creative spirit?
April 5, Awakening Compassion. Through our mindful activities, we begin to feel our own tender hearts. Perhaps surprisingly this leads us to connect with this quality in others. Our settled mind actually opens to the world around us. Let's explore our awakening compassion as we work on our projects.
Suggested donation 20$ per evening or 50$ for all three.
Please register for the Zoom link.