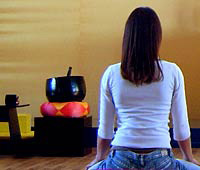 Tumbling into Fall: Morning Meditation Practice, 3 days a week, Sept. 21 - Dec. 18
with Cathy Baerg, Katrina Burton, Naomi de Ville, Lynn MacDonald
Come Tumble into Fall with us virtually via Zoom, with meditation practice Monday, Wednesday and Friday mornings 8-8:30 am September 21 to December 18.
At the March onset of our temporary shutdown due to the COVID-19 situation we began offering virtual morning poetry and/or dharma readings and meditation practice so that we could spontaneously and joyfully Emerge into Spring together. We continued with these morning practices celebrating the warmth and natural richness of Summer. Now, as we Tumble into Fall, the winds of change and the colours and energy of the earth invite us to continue to discover our grounding and inherent wakefulness.
The autumn program offers 30 minute sessions. For the first 5 minutes or so we will share dharma and readings followed by a short guided meditation and sitting together. Four Ottawa Shambhala Centre educators are your hosts reading passages from 2 books: "Natural Bravery", by Gaylon Ferguson and "The Tender Heart of Sadness", by Roger Guest. It is not necessary to have copies of the books and whatever your experience with meditation ALL ARE WELCOME. You may join at any time during the 13 week season and for as many sessions as you like. If you'd like to try it out the suggested drop in donation is $5. You may donate here.
For those joining us for the whole season our program price is $150 (this works out to less than $4 per session). To allow those to attend at a discounted rate or if you think you may only join once a week or you register part way through the season our supporting price is $75. You can use the "Enter another amount you wish to pay" on the registration page. The patron price of $200 ($5.12 a session) supports those who cannot attend at the program price. Any amount offered above the Program Price is considered a charitable donation to the Centre, and will be included in a tax receipt issued by email in February of the following year.
If none of the above options are appropriate for your situation enter another amount that you wish to pay. Consider the value of the program and practice generosity at the level appropriate for you. Please do not let price be an obstacle. Read more about our Generosity Policy here.
Here is the Zoom link to join online. Please arrive a few minutes early as you may be put into a waiting room before you will be allowed in. We start the teaching/reading promptly at 8 am.