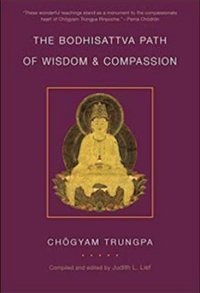 Book Club - Profound Treasury Vol 2: The Bodhisattva Path
This book club meets every second week to study of Chogyam Trungpa Rinpoche's book "The Bodhisattva Path of Wisdom and Compassion: The Profound Treasury of the Ocean of Dharma". The group is informal and self-facilitating. The book is available at your favourite bookseller, in hardcover, paperback, and as an ebook. We do not have copies for sale at the Ottawa Shambhala Centre, but we do encourage you to support local independent booksellers who are usually happy to order it in if they don't have it on hand!
From the publishers description:
The essential teachings on the bodhisattva path of wisdom and compassion, presented here in volume two of Chögyam Trungpa's magnum opus, which offers a systematic overview of the entire path of Tibetan Buddhism.
The second volume presents the bodhisattva teachings of the mahayana. At this point, having trained and seen the benefits of looking within, the student begins to shift their focus outward to the broader world. Formal entry into the mahayana occurs with taking the bodhisattva vow. Mahayana practitioners dedicate themselves to the service of all sentient beings, aspiring to save them from sorrow and confusion, and vowing to bring them to perfect liberation. This stage of the path emphasizes the cultivation of wisdom through the view and experience of emptiness, or shunyata, in which all phenomena are seen to be unbounded, completely open, ungraspable, and profound. From the ground of shunyata, compassionate activity is said to arise naturally and spontaneously.