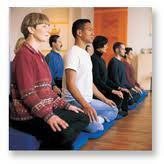 Learn to meditate
Most of us would appreciate more peace and harmony in our lives. Mindfulness meditation is an excellent way to begin. The simple yet profound practice of meditation is easy to learn. Instruction is given in a safe, accepting atmosphere where no one is being judged.

Taught by our qualified instructors, this basic meditation class is for beginners, as well as anyone who would like to refresh their understanding of the meditation technique. This is a drop-in class; no registration is required. Participants are welcome to come as often as they like, but the class is designed as a one-time introduction with the same content each week.
We provide meditation cushions and chairs.
No charge: donations are welcome.